Crushing equipment
is mainly jaw crusher, cone crusher, gyratory crusher, hammer crusher, roller crusher, impact crusher, impact crusher and so on. They belong to the category of construction machinery. Common Features: Basic crushing construction machinery such as raw material construction industry.
In recent years, with the mining, cement, transportation construction, metallurgy, chemical industry, electric power, water conservancy and real estate industries led the development of crushing and grinding equipment industry in China, crushing and grinding equipment business in China capacity scale, economic strength, product technology , Management level and achieved a qualitative leap in the international market triumph. In 2008, the Chinese market surpassed the North American market to become the largest market in the world in terms of sales of mining machinery. In 2010, China's mining machinery output accounted for 50% of the world's total output, with crushers and ball mills topped the list.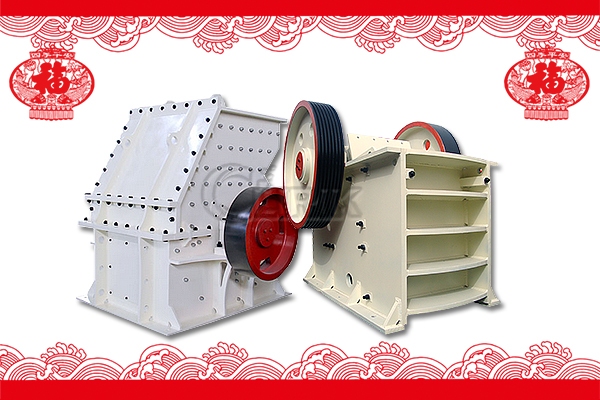 Jaw crushers and cone crushers are suitable for crushing very hard rock masses (compressive strength 150-250 MPa); gyratory crushers are suitable for crushing hard (compressive strength above 100 MPA) and medium hardness (compressive strength 100MPA or so) rock block. Hammer crushers are suitable for crushing medium-hard brittle rocks (ultimate compressive strength below 100 MPA); roll crushers are suitable for crushing moderate-toughness ductile rocks (ultimate compressive strength around 70 MPA).
In the actual selection, we should also consider the following factors based on specific circumstances:
1, the physical properties of the material, such as friability, viscosity, moisture and sediment content and the largest feed size.
2, the total output of finished products and grading requirements, according to the choice of crusher type and production capacity.
3, technical and economic indicators, so that both the quality and quantity requirements, easy operation, reliable work, and maximize the cost savings.
Contact us For 12% Discount!